Popplet is an online application for project and idea visual organization. Another name for this procedure is "mind mapping." Popplet can be accessed via a web browser or as an application for tablets and mobile phones. Since the web tool offers the most useful free version of the experience, that is what we will be concentrating on. The free, or "Lite" version of the iOS app is limited to a single project. The complete version is $4.99.
You can begin to see how the tool functions by going to popplet.com. Essentially, you use a virtual whiteboard to link and group ideas or activities. Therefore, you may utilize Popplet to showcase your research on a certain topic while include details related to and surrounding your main topic. Alternately, you might use it to map out a project's phases, grouping the specific steps around each one.
The best part about Popplet is that it offers a ton of amazing features that are all very easy to use and intuitive. This contains tools for sharing and working together on your Popplet, as well as effective tools for creating dynamic, visual presentations with Popplet. All you have to do to get going is create a free account and watch the video below.
What is Popplet
Popplet.com is a free online tool that enables educators and students to quickly and efficiently build concept maps. Students can use this website to make their own Functional Decomposition charts, which they can then download, publish, or send through email or post on social media as a project artifact for their service-learning course.
Establishing a Profile:
• Launch the web browser.
• Visit Popplet.com.
• Click on the upper right corner.
• After accessing the website, click the pink icon to get started.
• Popplet is now ready for you to use!
• You will select "Log In" the next time you visit www.popplet.com.
• Input your details (name, email, password), and confirm that you understand and accept the terms of service and privacy statement.
• In order to create a Popplet, first log in to your account.
•  On the page, select "Make New Popplet" on the left.
• A box labeled "Make a New Popplet" will show up.
• The screen will now display your Popplet.
• To make your first popple, double click anywhere on the screen (Popplet is the term for bubble).
• Press the popple.
• Enter your text by typing.
• Choose a gray circle from the four that surround the popple to add another one.
•  Choose the top gray circle to add a new popple above the existing popple.
• Enter the new popple here.
• Keep going until all of your information has been added.
Personalizing Flyers:
• After creating a popple, there are numerous options to personalize it.
• To alter the popple's color, click on the individual popple.
• A popple-shaped icon will show up on the bottom left of the popple.
• Type a name in the box to create your Popplet.
• Decide on a hue for your Popplet.
• This color will serve as your concept map's backdrop.
• To make a new Popplet, click "Make It So."
• The only issue with this program is as follows.
• You only receive six Popplets in the free edition..
• Press this symbol.
• Choose a hue.
• Click on the individual popple to alter the text within it.
• Choose the symbol situated second from the left. "A" is printed on it.
• Click one of the "A" symbols on the left to adjust the text's size. Your typeface will get smaller the smaller the "A" is in the icon.
• Click one of the buttons on the right to adjust the text's alignment within your popple.
• The icon's picture matches the alignment (left, centre, or right).
•  To upload a picture or a video, select the relevant popple.
• Click the icon located far to the right.
•  It features an image of a mountain.
•  Select the location (Flickr, Facebook, Youtube, or your computer) where you want to post your photo or video.
•  Look for the picture or video online.
Choose the picture.
e. Depending on where you got the information, click "Open" or "Add to Popple."
Including Associates:
• Select the Popplet that you wish to invite collaborators into.
• In the upper right corner, select
• Click "Include Collaborator."
• Enter the recipient's name or email address if you want to share your Popplet with them.
• Choose the person's name.
• Press 3.
• To share a Popplet, select the one you want to share.
• Click in the upper right corner to select
• Click any of the icons located in the four white boxes that are next to "Share."
• You are redirected to the same window by each icon.
• Click the Facebook button if you would like to share it on Facebook.
• Once your Facebook page loads, click "Share Link."
• Click the Twitter button if you would like to share it on Twitter.
• Click "Tweet" when your Twitter profile opens.
• Enter your Popplet's email addresses in the "e mail friends" box if you like to email it to someone.
• When you're finished, click "e-mail."
• Copy the link from the "Copy and Paste link" box if you want it to appear in your Popplet.
• Paste the URL in the desired location for sharing.
• Copy the embed code from the "Embed it" box if you wish to embed your Popplet.
• Copy and paste the embed code anywhere you like.
What Occurs If You Take ADHD Medication Even Though You Don't Have ADHD?
Are there any miracle drugs that enable students to study for longer periods of time, concentrate more, and retain more information? Many people, particularly college students, take ADHD medication in the hopes that it would improve their performance even if they are not diagnosed with the disorder. Myles Bess studies the effects of ADHD drugs on individuals with and without a diagnosis.
Describe ADHD.
Attention deficit hyperactivity disorder, or ADHD, is a prevalent mental health issue among individuals under the age of 18. Similar to having 100 tabs open on your browser, you wind up focusing on the wrong things rather than the tasks at hand because of this mental overload. Adderall is the most often given medication for ADHD in the United States.
Are medications for ADHD?
Most medications for ADHD are stimulants. After taking a pill, they begin to stimulate and activate your central nervous system in 15 to 20 minutes. While caffeine is a stimulant, medications for ADHD are even more potent. similar to Adderall, one of the stimulant drugs that doctors prescribe the most frequently in the United States. The active component is an amphetamine derivative that has been used for many years.
How do medications for ADHD benefit those who have it?
Dopamine, a particular neurotransmitter in the brain that you've certainly heard of before, is mostly responsible for it. In terms of the reward pathways in your brain, it's crucial. You may stay motivated even while you're doing something you don't enjoy when your brain's synapses are filled with a healthy amount of dopamine. However, there is less dopamine present in the synapses of an individual with ADHD. Consequently, there is less drive to complete tasks. There is a greater desire for immediate gratification in order to raise dopamine levels. ADHD medications function by extending the half-life of dopamine in synapses. When it comes to finishing tasks at work or school, the ability to focus and block out distractions is a huge asset for those with ADHD.
What therefore occurs when a person without ADHD takes an Adderall or other ADHD medication?
While a number of laboratory studies have not demonstrated any benefit in cognition for individuals without ADHD when using ADHD medications, real-world scenarios such as exams and writing assignments have not been thoroughly examined. However, numerous studies do demonstrate that these medications cause you to overestimate your performance. There are also concerning side effects that could harm you in the long run.
A prototype framework for instructive and related presentations can be made using the Popplet app. Using it, you can compile your ideas and thoughts into a mind map, framework, or diagram to graphically express them. When establishing an idea, you might fill in the popples rather than writing your ideas down in bullet points. It is possible to modify the label, resize, and rearrange the position of these popples.
Additionally, Popplet's mobile version is available for iOS users to download from the Appstore; however, if you are not an Apple community member, you should use the browser version of the app. However, since the free edition just allows you to use basic kits, don't have great expectations for it. Therefore, you have to buy the premium version on its main website in order to get rid of this restriction.
What Qualities Make Popple Unique?
We won't go over the basics of Popplet in this review because we'll also highlight some of its most amazing features. Would you like to use it? You must read the salient characteristics that set this software apart from the competition.
Adjust, observe, and position each popple comfortably.
It's getting easier than ever to generate popples and add text to them.
After you're done making the map, quickly take a picture of it.
Images can be copied and pasted using the app.
Its zooming features are amazing.
The program supports popplet boards, annotation, and drawing tools.
Easily share your work on Twitter and Facebook.
To give another contributor unrestricted access to edit the map, use the invitation link.
Images and URL links can be attached.
What Is Popplet's Cost?
Popplet: Is it free? Yes, you can use the app for free on any web browser you own. However, the free version of the program has restrictions that prevent you from enjoying it. You must be aware of the plans available to you in order to use the app without limitations and take full advantage of its capabilities.
No Cost Version:
You may use it for free on tablets, Chromebooks, web browsers, and more.
Get unrestricted access to Popplet's basic functionalities.
Easily collaborate and share your popplets with others in shared popplets.
Share your Popplets with others.
Make a single popplet.
Plan Solo:
With the Solo Plan, you can export mind maps indefinitely and get all the features for free.
Exchange your work and work together without boundaries.
For $1.99 a month or $19.99 for a full year.
Group and School Schedule:
The Group & School Plan supports every feature available on the Solo Plan.
cooperative work with a large group of individuals, such as an enterprise, business, or organization.
The cost will vary based on your requirements, so please get in touch.
What Is Popplet's Best Use?
The optimum application for the Popplet is during a class discussion. Presenters, instructors, administrators, students, and academics can swiftly make a map of what they plan to say. Since most individuals these days learn best visually, it is far preferable to learn everything by looking at a picture than by talking about it. In this manner, a deeper conversation on a particular issue will take place in the relationship between the speaker and listener. In addition, the software allows you to easily design an organizational chart that shows who is where.
Advantages
Use the online application for free.
When compared to other web apps, its user interface is superior.
For artistic purposes, the drawing tool function is supported.
Quickly record the project you're working on and download it.
You can export your produced map as a JPG or PDF file.
There is support for the text feature box.
Include media files, such as supported photos and videos, in the map.
The app's free edition can only export one map.
It ought to increase the output format of the app like its substitutes.
The variety of shapes and arrows restricts users' creativity.
We do not currently support the Android version of Popplet.
 A Brief Guide for Novices on Using Popplet
Although Popplet diagrams can be created on iOS, the tutorials listed below are exclusive to web users. If this is your first time using it, you should read the instructions and adhere to them carefully to avoid getting lost.
Step 1:
Open your web browser and type the name of the Popplet app into the search bar. You have to log into your account here after opening the app. Before following the procedures, if you don't already have an account, create one.People Account Open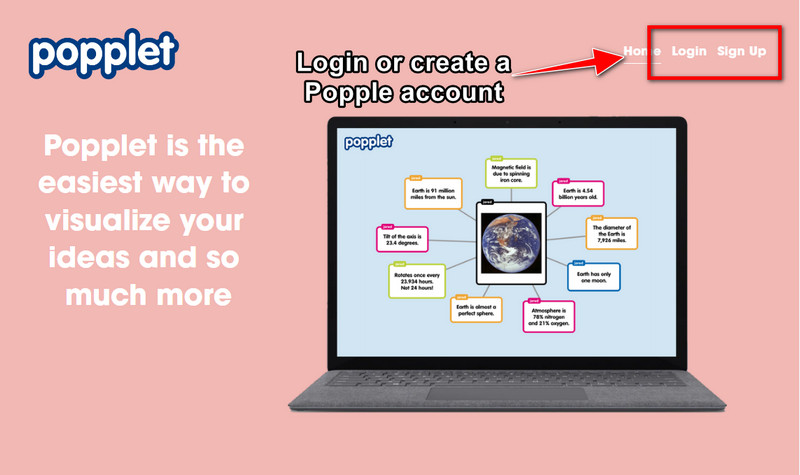 Step 2:
To add the popple where your arrow cursor is, double tap the left button with your mouse. As you can see in the image below, each popple has editing capabilities that you can use to make them stand out from one another.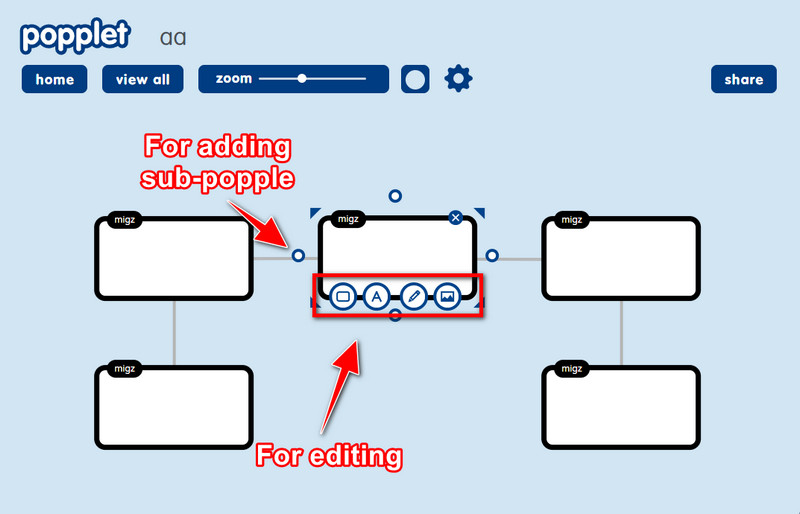 Step 3:
After using the app to build the desired chart, find and tap the gear icon in the upper portion of the web interface. A screen with several options will show up; select PDF + Print to print the chart on paper. That's it! You've finished the instruction on using the guide to use Popplet.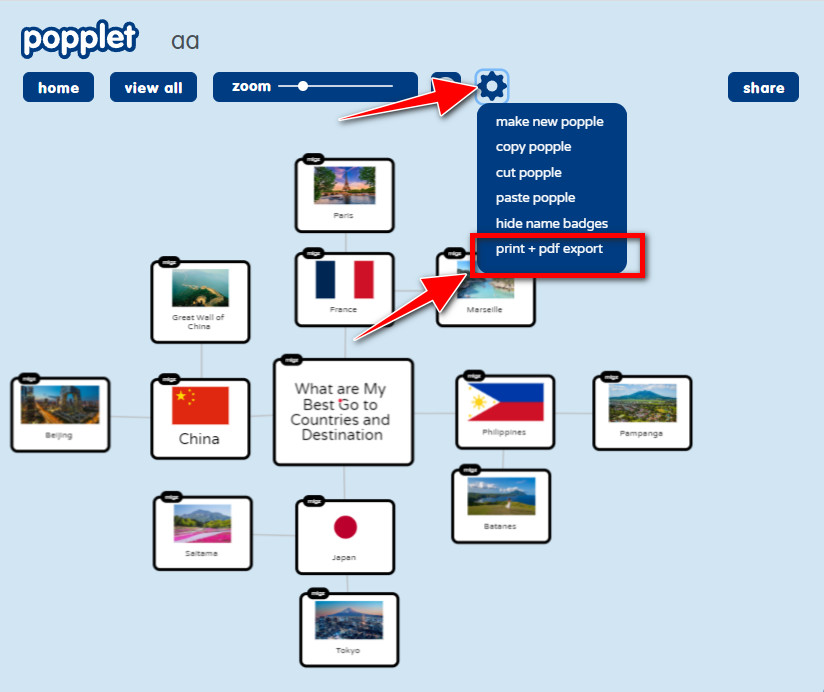 Is There a Free Alternative to Popplet That Can Export More Maps?
You can export several edited maps that you have made here using MindOnMap. The fact that there are no exporting restrictions thrills the user of the aforementioned app. In contrast to Popplet, you have a lot more options when it comes to exporting the finished product as a JPG, PNG, SVG, Word document, or PDF file. The program creates maps using nodes and sub-nodes rather than popplets, and it allows you to alter its theme to make the map more eye-catching and colorful for the user. Therefore, if you would like to work on your map more, we recommend that you pick this up right now, make your greatest map, and then share it with us when you're done.
What drawbacks come with using Popplet?
Popplet Tool can now be used for free on any web browser provided you have an internet connection. After reading the review and tutorial, you are now able to handle and understand the features of the app with ease. You will need to start utilizing the alternative app if the Popple app is still insufficient for you, as it offers more features than just mind mapping and fills in the gaps. Curious to learn more about it? To use the app, browse its features and read the instructions in your web browser.
Check Also: How to Resolve the Error in the Venmo Form Submission 2023
Visited 42 times, 1 visit(s) today